Shopping Guide

Kusuri Express is an online store where you can purchase prescription drugs from abroad in Japan.
Inexpensive, safe generic drugs and supplements

Special Japanese regulation for import of pharmaceutical drugs for personal use
The import of pharmaceutical drugs into Japan by an individual is permitted, provided it is for personal use. Within a permitted volume, it is possible to import prescription drugs by only undergoing a content check by customs without submitting any special documents.
Kusuriexpress does not handle poisonous or deleterious substances, and all products can be ordered from Japan and safely received.
Prescription drugs: Up to 1 month's consumption
Hair growth products (less than 5% minoxidil): Up to 2 months' consumption
Topical drugs (excluding prescription drugs): Up to 24 items per product
Other drugs and quasi-drugs: Up to 2 months' consumption
1. Registration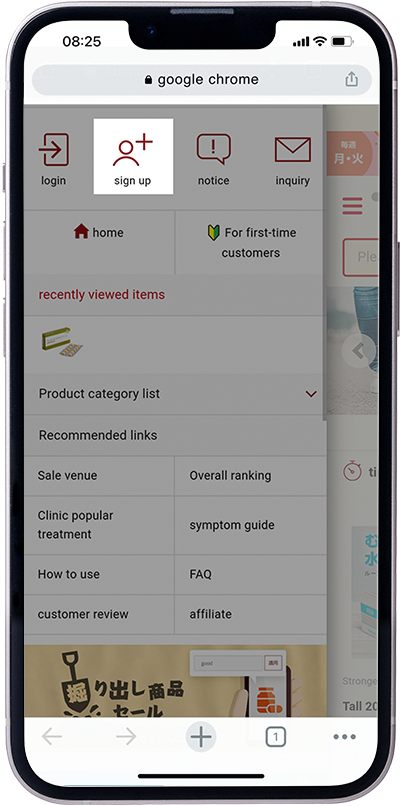 1. Click on the upper left corner of the Kusuriepxress homepage to register as a new member.
Click on the three bars in the upper left corner, and "login" and "sign up" will be displayed.
For new members, please select "sign up" to proceed to the next step.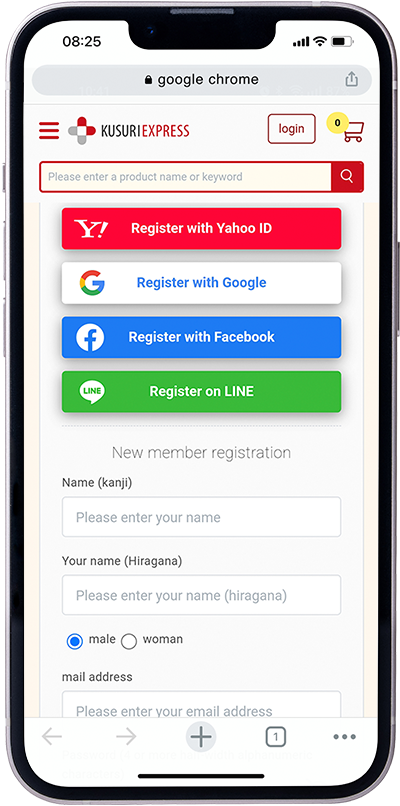 2. Input your information under "registration", or sign up with other options.
Please include your name, email address etc. to set up your account.
Coupons and newsletters are sent depending on the gender of your selection.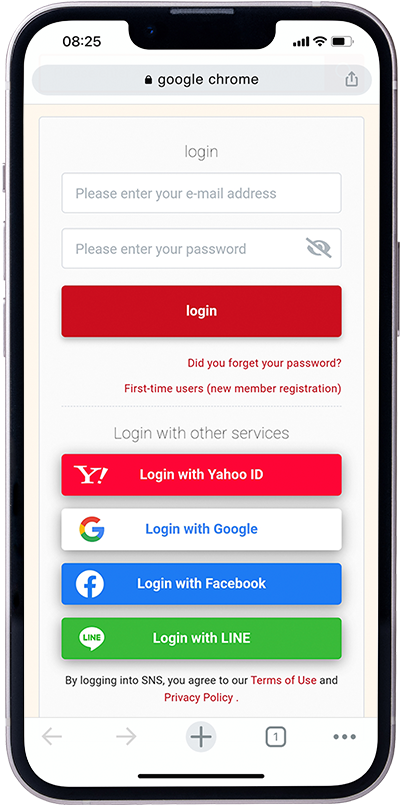 3. Click "login" if you already have an account.
Choose "login" and enter your email and password.
You can check your registered account information after a successful login.
---
2. Search for products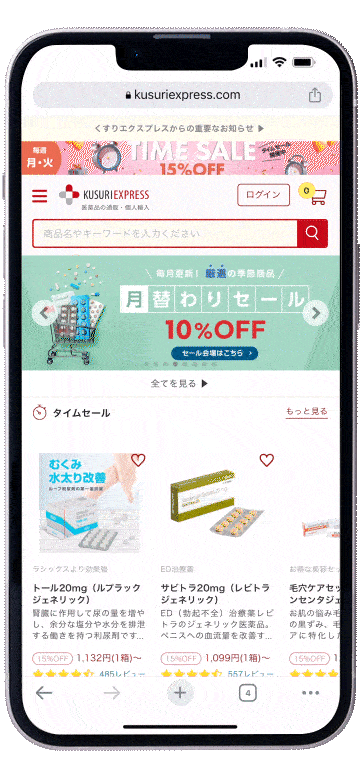 1. Change the language to English or Chinese using Google Translate.
For smartphones, click "… "on the bottom right corner of the window, and choose Translate.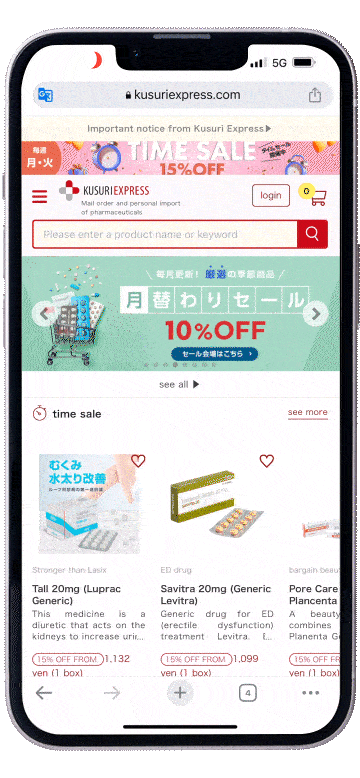 2. To search for a product, enter the keyword for the product in the search box.
Click the search button for the results.
You can search with a product name, e.g. Placentrex
---
3. Add products into shopping cart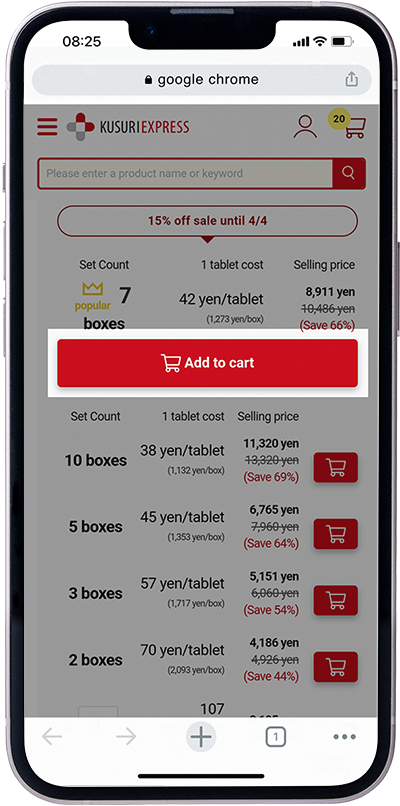 1. Click "Add to cart" button to add a desired product into the cart.
You can find the product images, pharmacists' explanations, and customer's reviews on a product page.
Click "Add to cart" to select an item. Purchasing in bulk will significantly reduce the prices.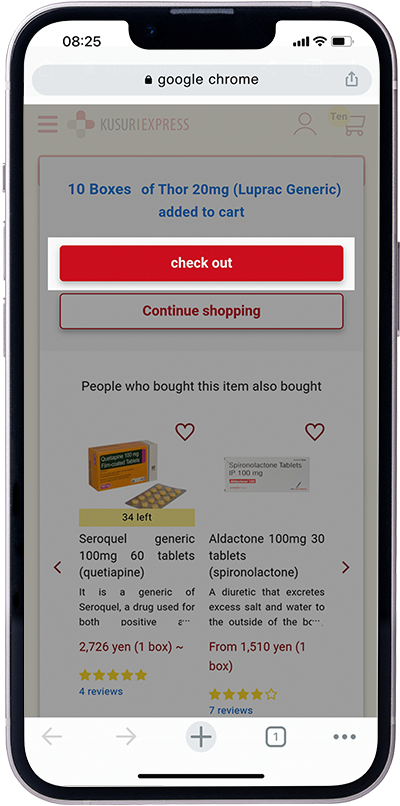 2. To proceed to checkout, select "checkout"
To continue shopping, click "Continue shopping" to go back to the product page.
Products frequently bought together are also displayed. Do take a look if you are interested in them.
---
4. Shipping information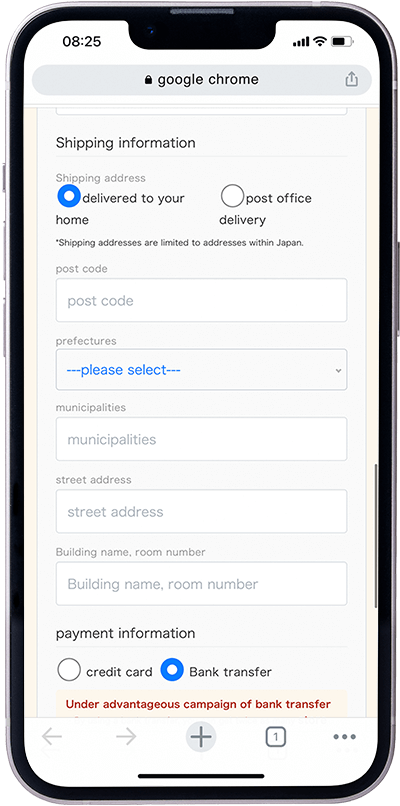 1. In the checkout page, please input the correct shipping address (your accommodation in Japan or the post office where you want to receive the parcel)
If the order information is correct, please input the correct shipping address (the accommodation in Japan or the post office where you want to receive the parcel).
You can also choose from previously registered addresses.
Insufficient address information, such as missing street number or room number, may cause the ordered items to be sent back to the sender's address. Please review again before ordering.
(Important information)
※The shipping address is limited to within Japan.
※All shipped merchandise will be discarded if returned. we do not provide a service to resend them, so please make sure to enter the correct delivery information.
※Delivery lead time is about 2 weeks, so we recommend ordering 3 to 4 weeks before you need the product.
---
5. Checkout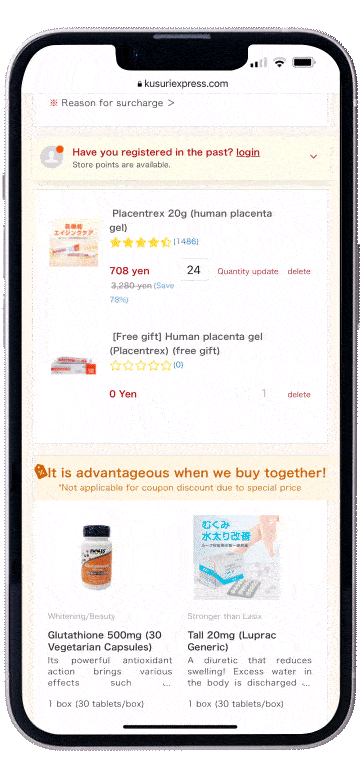 1. Please review your order on the checkout page.
Check all products in your shopping cart on the checkout page.
You can edit their quantity or delete them.
Some products come with free promotional items.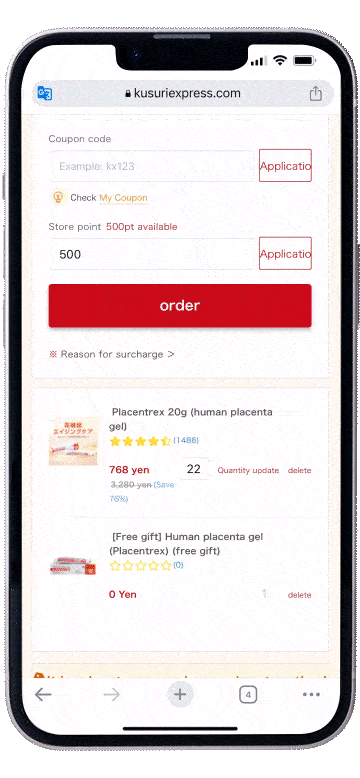 2. Use your coupons or reward points during checkout.
Get discounts by using coupons and reward points. Enter a coupon code and click the "Application" button.
Receive 500 reward points after creating your account. You can earn additional points by purchasing more products and writing reviews.
These points can be used on your next order. Each reward point is worth 1JPY.
Enter the amount of points you wish to use and click the "Application" button.
Please refer to 【Point system】
for more information regarding the reward point rate for purchased items.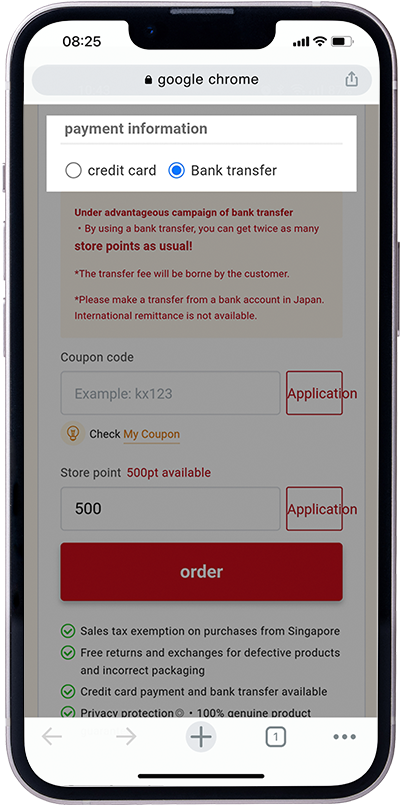 3. Choose a payment method. Choose between bank transfer or credit card.
Choose a payment method via bank transfer or credit card.
※We only accept Mastercard or JCB for credit card payment.
Please note that paying with a VISA/Amex/Diners is not available.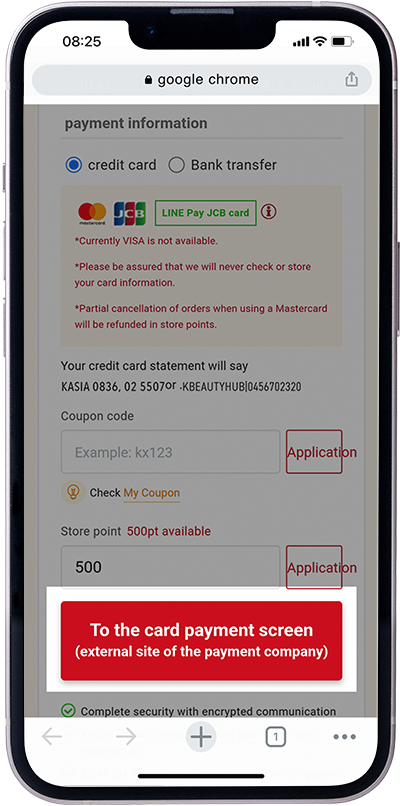 4. (A) Place your order (For credit card payments)
For credit card payments.
After choosing credit card payment, a "To the card payment screen" button will show.
After confirming your order information, price, and shipping address, click this button.
You will be redirected to a third party credit card company website. Enter your card information.
After your order is paid, an order confirmation page will show.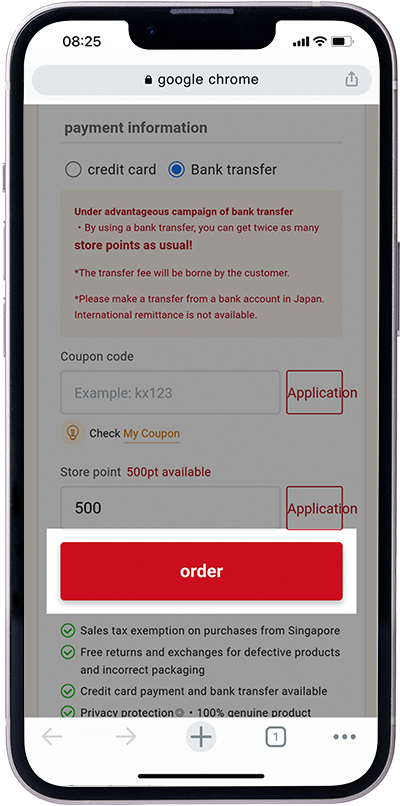 4. (B) Place your order ( For bank transfer payments)
For bank transfer payments
After choosing bank transfer, an "Order" button will show.
Click this button and an order confirmation page will show.
The bank information to make payment to will be displayed. Please make payment within 10 days.
Payment must be received for your order to be processed.
5. Find the confirmation email in your inbox
This completes the purchase procedures.
If your order was successful, you will receive an email confirming that your order has been placed.
Once you receive the email, all that is left is to wait for your order to arrive.
---
6. Contact
You can reach our customer support in English or Chinese at the following email address.
Please use the FAQ page as necessary (Japanese only. Please use a translation tool)
https://www.kusuriexpress.com/pages/faq
Important notes:
We strive to reply within 1 or 2 working days. As our customer support system does not work on weekends and public holidays, please wait until the next working day for your reply.
---
【Top 5 for men】Male health, cures ED/AGA!

【Top 5 for women】Health and beauty items!